KUNMING – Local residents are resettled at a temporary replacement in Yongshan county, Southwest China's Yunnan province, on April 5, 2014, after a 5.3-magnitude earthquake stuck Yongshan early on Saturday, leaving at least 32 people injured and 21,000 relocated. [Photo/Xinhua]
Five severely injured people are in stable conditions, as relief efforts continue on Sunday in Yongshan county, the quake epicenter, an official with the county government's information office told Xinhua.
The local government dished out 2,150 tents, and a large sum of quilts, food and water to quake victims in temporary shelters.
The quake hit the county, with an epicenter 13 km deep, at 6:40 am on Saturday, affecting 71,200 residents, of whom 21,000 had to be relocated.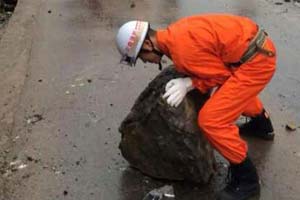 Comprehensive news about silicone and casting